Skilled Trades 10 and Service Trades 10 are the starting points for students who want to explore the skilled trades as a career option.
They feature a curriculum that immerses students in the realities of skilled trades work. Designed in consultation with certified, Red Seal-endorsed trades educators, the courses provide a mixture of classroom and practical workplace activities.
Students spend approximately 80% of their time completing authentic trades tasks and projects, using the basic tools of industry professionals.
More details on each of these courses can be found at https://curriculum.novascotia.ca/

Image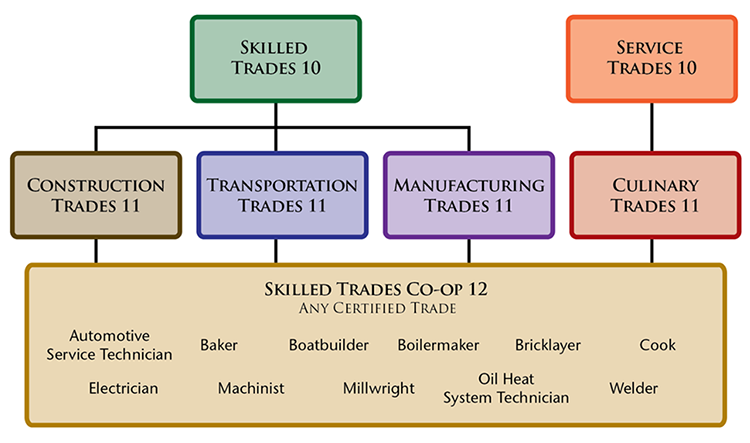 What Will Students Learn in Skilled Trades Courses? 
In Skilled Trades courses, students learn about the tremendous impact the skilled trades have on society, find out what life in the skilled trades is really like, and experience how rewarding it is to work with both their mind and their hands. They also get the opportunity to meet tradespeople in their community.
Skilled Trades courses are offered in grades 10 to 12:
Skilled Trades 10 is a course that focuses on a broad range of construction-related trades. Students must complete Skilled Trades 10 before taking Construction Trades 11, Transportation Trades 11 or Manufacturing Trades 11.
Service Trades 10 is a course that focuses on the service-related trades, such as cook and baker. Students must complete Service Trades 10 before taking Culinary Trades 11.
The Grade 11 Skilled Trades courses narrow in on a cluster of trades in the construction, transportation, manufacturing and culinary sectors.
In Skilled Trades Co-operative Education 12, students extend their previous learning through a work placement with a certified journeyperson. This is an opportunity for students to make connections between classroom learning and to continue developing skills in an authentic workplace environment. Students must complete a grade 11 Skilled Trades course before taking Skilled Trades Co-operative Education 12.